---
08.12.2007
"Dependency" live video
From "KF" club Arad concert on friday, here's a bit of the last night's action...
A big thanx to our new friends in Arad and to our old friends from Timisoara who traveled 50 km to see the show. Cheers and see you again sometime in 2008!
---
06 - 07.11.2007
Live at "Roland Garros" | Cluj-Napoca, Romania
On thursday the 6th of december Persona goes live in "Roland Garros". It's the first ever appearance in Cluj-Napoca, so be sure to check it out. Persona confirms the second live appearence this winter in club "KF" in Arad. The after party will be hosted by Mr. H.
There are plans for a concert in Timisoara in the coming weeks, on a date yet to be cofirmed.
---
19.09.2007
"Suburbia Afterlife" LP
Listen here "A Ride On Lovestreet" and "Momentary Lack Of Passion". Persona releases for promotional use only these two demos from the upcoming "Suburbia Afterlife" LP. The work in the studio continues...
---
19.08.2007
Gaben live with "Neurotica" at "StufStock"
Gaben will join his former band "Neurotica" for a concert at "Stufstock" festival in Vama Veche / Romania. You can watch the performance live on TVR 2 saturday 16.08.2007, 02.00 hrs.
---
06-08.2007
Guitar sessions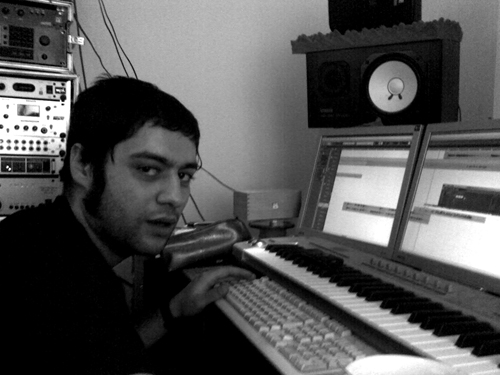 Gaben enters the studio.
---
07.07.2007
Live at "Rock la Mures" | Periam Port, Romania
Persona will perform at this year's "Rock la Mures" festival, alongside Dog Eat Dog, Deathstars, Lluther and others.
---
13.06.2007
Live in "Bunker" | Timisoara
Check out "Kitchen Song", "Welcome To Planet Earth", "Honney-Bunny Blues" and "Head On The Door" from this concert on our video section.
---
10.05.2007
Vote Persona
Thank you for voting Persona on www.peninsula.ro/wishingbox. We didn't make it...stop voting
---
10.05.2007
Floyd | Live with Haos

Floyd joins his former band Haos for a series of concerts in Austria (Wien) and Slovakia.
---
16.03.2007
Live at "New Bounce" (Terasa Eminescu) | Timisoara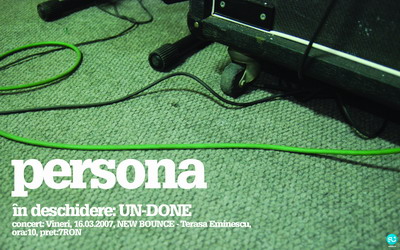 The playlist for this one will include some new songs like "Honney-Bunny Blues" and "Suburbia Afterlife".
Guest Joy on acoustic guitar and Horatiu F. on vocals. Opening acts : Ansamblul Moriovanic, Undone.
Photo & poster by Oli
---
01.03.2007
Live at "The Note" | Timisoara, Romania
Opening for SURVOLAJ, at The Note, Timisoara.
---
06.01.2007
Bass Session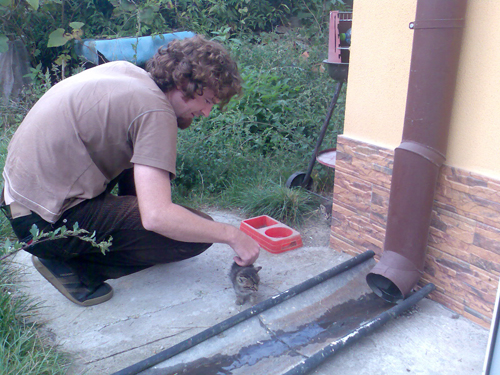 Coco re-enters the studio. Recording bass tracks for "People On The Move" and "Head On The Door".
2020 2019 2018 2017 2016 2015 2014 2013 2012 2011 2010 2009 2008 2007 2006 2005 2004 2003