---
16.12.2006
Bass Session - Coco enters the studio
Recording bass tracks for "A Ride On Lovestreet", "Momentary Lack Of Passion", "Dependency", "Kitchen Song" and "The Telephone".
---
24.11.2006
Live in "Jazz Club Pod 16" | Timisoara
All You Had Is Yours Again and you feel Home in the Arms of depression, ready to start that Ride on Love Street again you are both Happy & Vicious, some old pictures appear On the Screen thought they were lost in Computer Breakdown but this Momentary Lack of Passion gets you back to your Dependency, we wish you Welcome to Planet Earth and hope you will find The Driverman, beware and don't put your Head on the Door, we all know...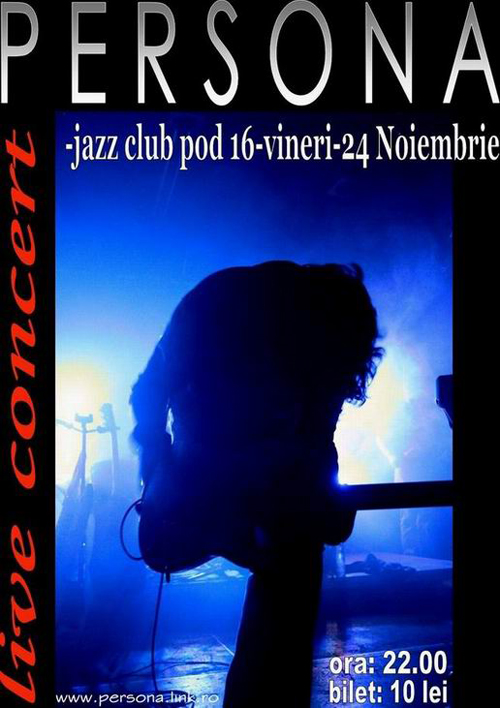 ---
16.12.2006
Drums Session - Floyd enters the studio.
Recording the first 7 drums tracks for the upcoming "Suburbia Afterlife" LP.
---
17.06.2006
Live in "Jazz Club Pod 16" | Timisoara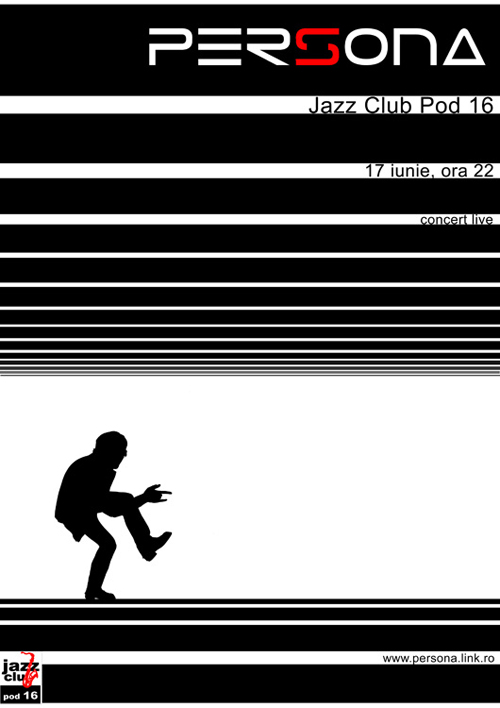 poster by Bobic
---
04.04.2006
Concert in Club "Fever" | Timisoara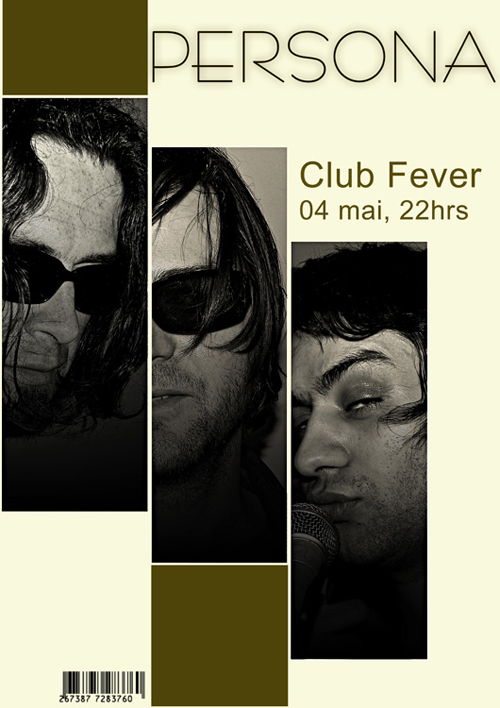 poster by Bobic
Come along and enjoy the new tunes of Persona. Many new songs which will be included on the new album will be played here for the first time: "Welcome to planet Earth", "The Driverman" and "Head on the door". This is the openning for the new "live and party" nights taking place every thursday in Club Fever.
---
27.01.2006
Live in "Jazz Club Pod 16" | Timisoara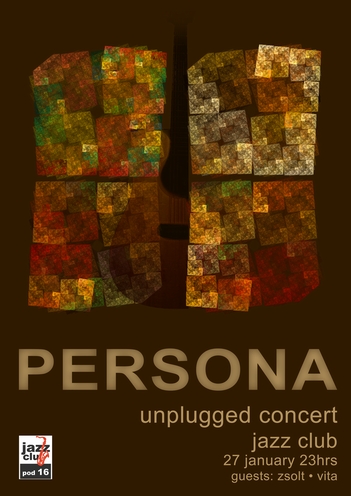 poster by Bobic
Unplugged performance
Special guests: Zsolt (Survolaj) on guitar and Vita (I.P.R.) on vocals.
Persona is planning it's first "unplugged" concert at the end of january '06, in a club with great tradition in Timisoara - "JazzClub" . The club has reopenned in the autumn of '05, and it's special atmosphere is sure to fit the occasion. The date for the event is yet to be made public. Keep in touch with the site for more info. Here's the the most probable playlist, with acoustic versions for all Persona songs :
01. Momentary Lack Of Passion
02. On the Screen
03. Murder
04. Head On the Door
05. Happy & Vicious
06. Computer Breakdown
07. Dependency
08. Save Some $
09. Kitchen Song
10. Generation
12. Home In The Arms
13. Genie In A Bottle, etc
and some cover-songs.
---
01.01.2006
Cata leaves Persona
Catalin Mocan is the new frontman of the band Kumm.
www.kumm.ro
Persona will go on as a trio.
2020 2019 2018 2017 2016 2015 2014 2013 2012 2011 2010 2009 2008 2007 2006 2005 2004 2003