---
23.12.2005
Live in Club "Fever" | Timisoara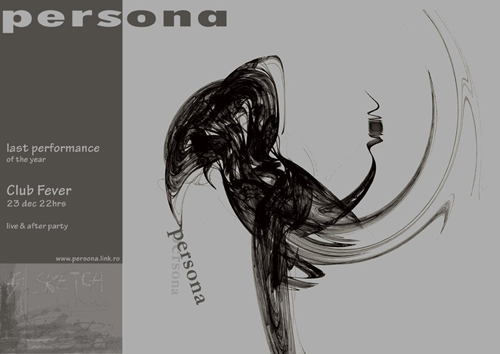 poster by Bobic
On th 23 of december Persona goes live once again in "Fever", the club formerly known as "Hush", performing live for the last time before entering the recording studio in january. Here's the playlist, including two brandnew songs (*):
01. Momentary Lack Of Passion
02. On the Screen
03. Murder
04. Head On the Door(*)
05. Happy & Vicious
06. Computer Breakdown
07. Dependency
08. Save Some $
09. Kitchen Song
10. Raindrops Keep Falling On My Head (Burt Bacharach)
11. This Generation
12. Miss You (Rolling Stones)
13. Home in Your Arms
14. Genie In A Bottle(*)
15. 24 Hours Party People (Happy Mondays)

After the 1h30' concert the afterparty was hosted by DJ Slave.
---
15.07.2005
Live at "Summer Break" | Deva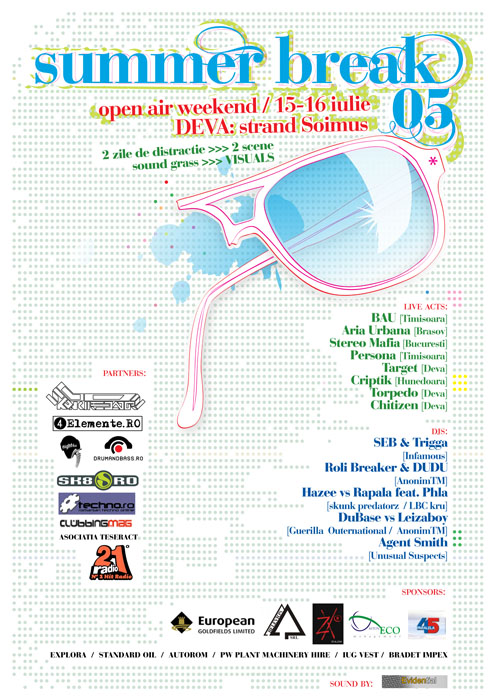 ---
01.04.2005
PersonaEP
PersonaEP will be the first Persona release, for promotional use only.
It contains two songs - tracklist:
1. Home in the Arms
2. Computer Breakdown
---
05.02.2005
Gaben with "Neurotica" - studio sessions
Gaben enters Luxor Studios in Bucharest for recording sessions on a project with some former members of Neurotica. His involvement consists in the writing process and the recording of the guitar tracks. The new band doesn't have a name or a contract yet, but plans to release two tracks for radio promotion by spring, and an album in the autumn of 2005. The other people involved are: M. Orban (drums), Kosma (keyboards, arrangements) and B. Mizzone - the former Neurotica frontman (bass, also responsible for the production); Dragos Badoi provides the vocals - he is a well known figure in Romania, for collaborations with Phoenix and Directia 5. The crew works on two new songs, but also there are some Neurotica unrealeased songs from the succesfull 2002 tour that are being rearanged, "New Sensation" and "The 1". The sound is more radio-friendly, with a touch of ethno, based on synthesizers and a "get up and dance" rithm section. Despite some rumours, this does not mean that Neurotica is back together...
update: Check out the outcome:
Music by:
Dragos Badoi: vocals
Mizzone: bass
Gaben: guitars
Kosma: keyboards
Miki Orban: drums
2020 2019 2018 2017 2016 2015 2014 2013 2012 2011 2010 2009 2008 2007 2006 2005 2004 2003